Driveway Pavers, Repair and Maintenance Contractors


For many houses, the driveway is an important focal point. It is the principal entranceway to the property, the place where you meet and greet guests and often serves as an extended work shop, project space or play area for the family. An attractive new or well-maintained driveway lends considerable "curb appeal" to your property and can significantly impact the perceived value and attractiveness. This is true for private residences, strata's and businesses. Your driveway is a big part of that "first impression" so make sure it is a good one.
While there are many options for how you surface your driveway, including,  concrete, paving stones and bricks the most popular, and best value for most driveways is good old asphalt. Burnaby Blacktop does a lot of work in concrete and other media, but we are always partial to look, feel, and overall great value that you get by paving your driveway in asphalt.
Asphalt allows a skilled paving contractor to create an attractive, durable and cost effective driveway for your house or business location. Compared to other options it is often the most affordable. When properly maintained it will last 20-30 years and provide high usability throughout its lifespan.
Hire An Expert For Your Asphalt Driveway Paving Needs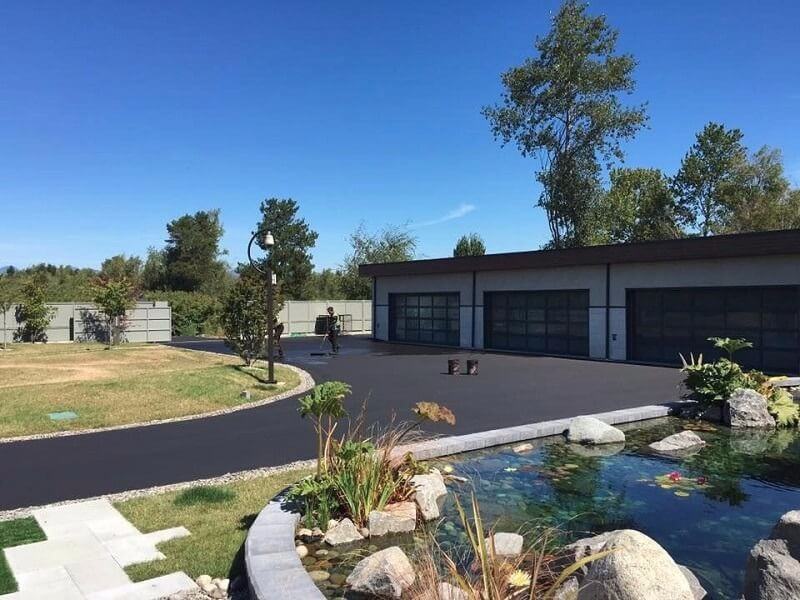 Our skilled team will work with you to establish your needs and budget and to help design a tasteful and efficient solution for your parking needs.
We always work from the ground up, pun intended, and start with an assessment of the underlying materials and drainage. Careful preparation of your driveways aggregate base and the installation of proper drainage are essential to a long lasting driveway. Careful grading to ensure that water runs off and does not pool and gauging the appropriate thickness to support the intended usage cycle are all part of our careful planning and preparation process. As professional driveway pavers, we do our homework and make sure that you are informed of your options and the tradeoffs that choosing different options may result in.
We are big believers in building long term relationships with our customers. It starts from when you first contact us and hopefully lasts the life of your driveway. Burnaby Blacktop is one of Vancouver's top privately owned paving companies and offers the best warranty in the business.
To help you become a better-informed consumer we have worked to develop an extensive FAQ and have a knowledgeable and friendly staff that will answer your questions so that you understand your options, what tradeoffs are possible and what enhancements might be worth considering.
Once the initial paving project is complete and you are happily using your newly paved long term maintenance and repair services will ensure that you get full use out of your driveway for decades to come.
Rain and runoff water combined with large temperature variation stress even the most perfect asphalt surfaces. Occasionally cracks or even holes can appear and should be treated as soon as possible.
Driveway Repair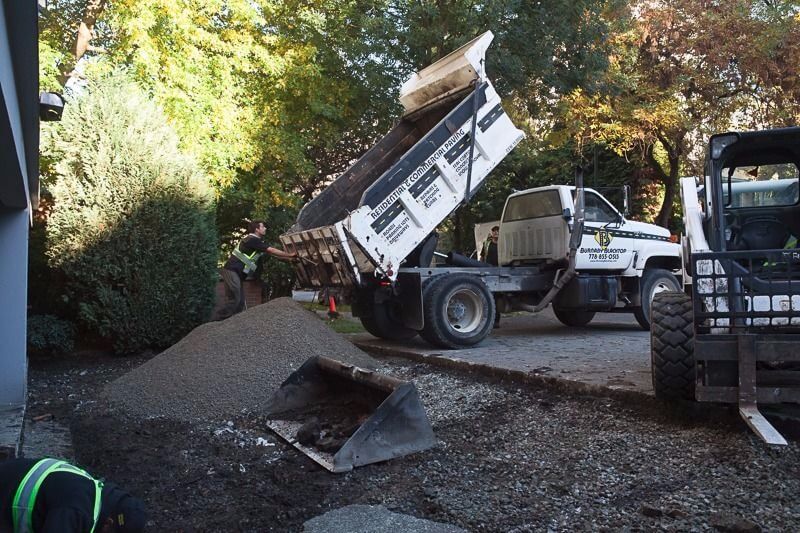 Burnaby Blacktop offers after market services and driveway repair solutions that include:
Asphalt Patching: we can carefully remove damaged areas including if needed the under lying aggregate and quickly get your driveway working as good as new.
Crack and Hole Repair: As needed we can fix smaller cracks and holes with the proper materials to ensure small problems don't become larger more expensive ones.
Seal Coating: Every 3-5 years we recommend that you seal coat your driveway with a professional grade driveway sealer to maintain its visual appeal and good working order.
Snow and Ice Removal: Winters can be surprisingly harsh and seem to be getting worse lately. Our trained snow removal crews can quickly and easily clear your driveway and if needed remove the snow build up.
At Burnaby Blacktop we love what we do, and it shows. No job is too big or too small, from a single car driveway to a massive municipal or commercial parking lot we are staffed and equipped to do them all.
Please call us to day at 778-855-0513. Let's talk about what you would like to do and how we can help!
Request a Quote
VANCOUVER
RICHMOND
BURNABY
NEW WESTMINISTER
PORT MOODY
WEST VANCOUVER
COQUITLAM
PORT COQUITLAM
PITT MEADOWS
MAPLE RIDGE
NORTH VANCOUVER
DELTA
TSAWWASSEN
WHITE ROCK
SURREY
LANGLEY
ALDERGROVE
WHONNOCK
ANMORE
BELCARRA
Testimonials
"I was first introduced to Burnaby Blacktop by a movie location scout. The movie company making a TV pilot had damaged one of my entry points into my circular driveway. Burnaby Blacktop repaired the damage and they did such an exceptional job that I had them do additional blacktop repairs to other areas that were previously damaged and needed work. The area they covered was about 60x40 feet rectangular. And I am very pleased of how it looks and gives my property a fresh appearance. Thank you Burnaby Blacktop."

Al H.

Vancouver BC

"From quotation to after job completion owner was courteous and on top of things. Crew was punctual and hard working, replaced our old concrete driveway with asphalt within a day. Price was very reasonable and quality is top notch. Concur with all other positive reviews here and would highly recommend Burnaby Blacktop! Thanks so much again!"

Jason C.

Langley , BC

"The best driveway experience to date for me....from the crew, to the owner, to the job that was done.....no complaints....give Burnaby Blacktop a call...you will be glad you did!"

Michael Schelhaas