Things to look out for when getting your driveway repaired
When is it time to get my Driveway repaired?
Over the years, your asphalt driveway will deteriorate due to natural aging and other factors.  In Vancouver area the increased snow and ice, colder winter temperatures are also going to add wear and tear. This is particularly true if you have to have a snowplow in to clear your driveway or parking area and if you need to use salt or other ice melt substances.
Before you decide on having it repaired or to have a new one installed, it is best that you talk to an experienced and trustworthy contractor.  Check on Google or Bing for old pavers in your area and look at their customer ratings, website and services offered. Reputable contractors will provide you a free estimate and will gladly spend some time on the phone with you to get an accurate idea of what you are looking for. By doing this, you will be able to save yourself from grief and ensure that what will be done is really necessary.
A proper driveway repair quote involves a site inspection
Repairs or a new driveway installation may seem to be an easy job, but only by getting the right people to inspect the area can you be sure of getting the proper recommendation.  Repairs generally cost a few hundred dollars, while an installation of a new driveway will typically be in the thousands  A quick site check will reveal if the deterioration can be repaired or if it there is a need to remove it and pave a new one.
Do not trust a contractor that will give you a cheap price without an inspection.  Remember that 'cheap' and 'high quality" does not go together.  Choose someone who knows the industry and has the experience to carry out the task.  Take note that the quality of the materials that will be used also plays a part in creating a durable asphalt driveway which will result to many trouble free years.
Choose a company that has been in business for many years and enjoys a strong reputation
Burnaby blacktop has been in the business for over six years and has completed thousands of projects in British Columbia.  We only use the best materials for our paving, maintenance and repair jobs and own 100% of the equipment we use.  In addition to this, we deploy pavers who have been in the industry for many years and has gained the expertise to carry out a job properly.  Whether it is residential, commercial or municipal, we are equipped to perform the task without any delays.  An appointment with one of our friendly estimators will give you all the information you need in order to make an educated decision.
"Beware of "Cheap" or "Bargain Price" Quotes – it usually is a sign of Poor Quality Work."
Now that you have an idea of what to watch out for, we will be letting you in on the Burnaby Blacktop (best) way of repairing them.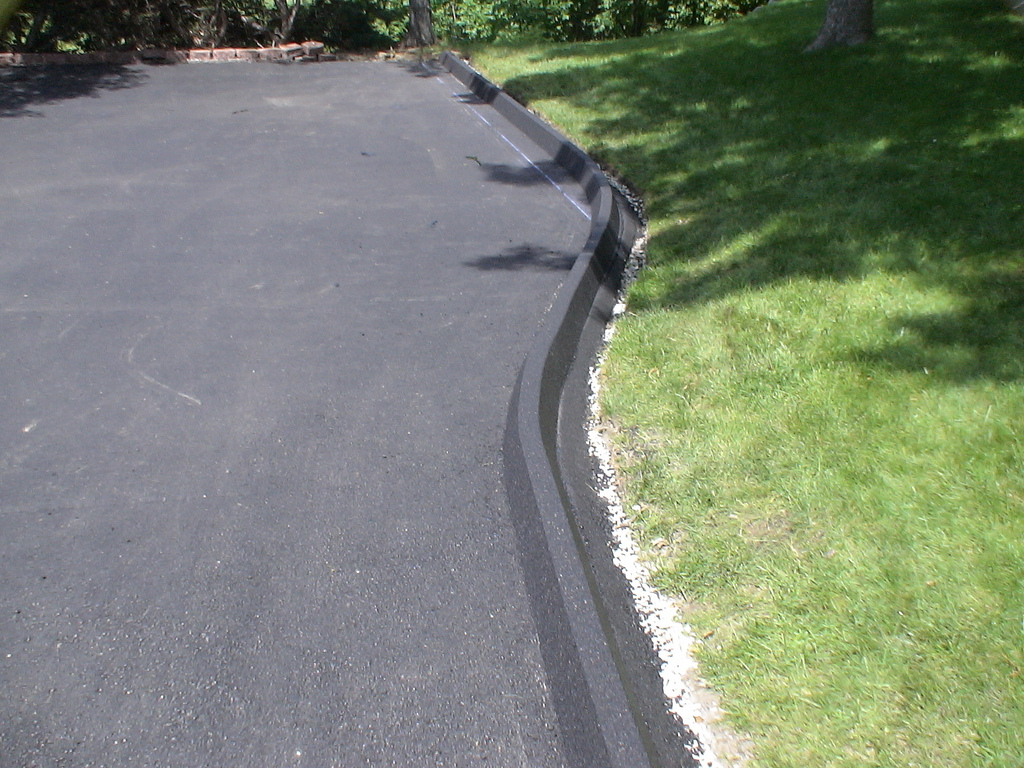 The right way to fix a hole in a driveway or parking lot
Potholes or sinkholes should first be cut out using a specialized cutting saw, assessing the ground and ensuring the gravel base is stable and properly compacted.  If there are issues with the base or drainage, these will be addressed. Once everything is ready under the asphalt, it's time to patch the hole. The next steps will include heating the edges and applying an (industrial grade) SS1 tack coat adhesive.  This will bond the new asphalt to the old.
Next,  hot asphalt will be poured into the cutout hole and compacted to achieve maximum density.  The Burnaby Blacktop way will typically last for five to ten years, giving you value for your money.  On the other hand, a fly-by-night contractor will pour a cold patch asphalt in the hole, then compress it using a shovel, then leaves with your hard-earned money.  This type of work will typically last for a few months before a hole appears again and will leave you frustrated.
The Burnaby Blacktop way of repairing Cracks
The Burnaby Blacktop way of repairing cracks include cleaning them out to ensure that there is no loose debris or weeds left in them.  We will then apply an industrial grade crack sealer to prevent the water from seeping in and causing more damage.  Low-cost repairs will typically skip the cleaning and include placing a low-grade crack filler which will likely only last for a few months compared to our crack repair lifespan of five to ten years.
We repair alligator cracks in a similar fashion as potholes by cutting out the damaged area using a cutting saw and assessing the quality of the gravel base.  Then we heat up the cut edges to ensure that the new asphalt adheres well to the old and pour hot asphalt in the area.  After this, it will be compacted to max density to ensure durability, while an inexperienced contractor will usually just pour a low-grade crack filler.  The cheap way will usually last a few months while alligator cracks repaired by Burnaby Blacktop should last five to ten years.
While a cheap-priced deal may be enticing, it is best that we remind ourselves that cheap and best rarely come together while high-quality workmanship should always be our top priority as this will steer us away from spending more in the future.  Trust Burnaby Blacktop for all your asphalt repairs, and you will never go wrong.