Winter services
Our Winter Services keep your parking area working even in the worst weather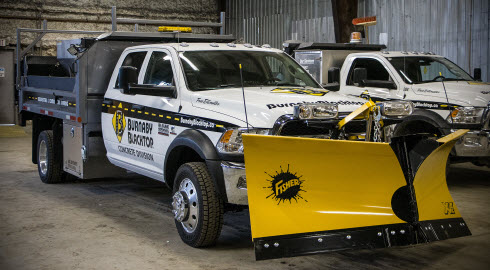 In addition to providing the Vancouver areas best paving services, Burnaby Blacktop offer a full range of Winter services to keep your parking lot or driveway operating safely through sleet, snow, rain ice and anything else mother nature throws your way.
With two designated equipment yards located in Richmond and Burnaby, we can provide prompt service to all areas 24 hours a day 7 days a week. Our trained crews stay on top of evolving conditions to dispatch snow removal/plow trucks, salt trucks, Bobcats and heavy equipment when and where it's needed before snow build-up causes operations problems.
Here to keep you and your customers safe from winter hazards
Our Vancouver Snow Plowing and Salting Team can take care of all your winter needs. We service the entire Lower Mainland including Vancouver, Burnaby, Richmond, New Westminster, Coquitlam and Surrey and offer cleaning, salting and snow removal services.
Commercial clients require their facilities to be 100% liability free, accessible and safe during unpredictable winter weather. Our professional snow clearing services protect the health and welfare of your customers, clients, and family members.
DID YOU KNOW? In Vancouver property owners and occupants (tenants) are responsible for clearing snow and ice from the full width of sidewalks that surround their property by 10 am on the morning following a snowfall, seven days a week. Property owners and occupants who fail to remove snow and ice may be fined.
Our prompt response saves clients time and money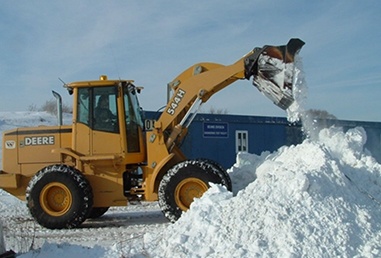 Burnaby Blacktop responds quickly to your call to prevent the snow from piling up to the point where your parking lot is unsafe to use. With our services, you can be confident that snow removal and salting (de-icing) of your site will be done right. Our proactive services keep your parking areas open, and help to save you the cost of a more major and logistically difficult clean-up later.
We offer a range of services including:
24/7 operations with 24 hour dispatch and proactive weather monitoring services.

Snow-plowing 

and removal for commercial lots, retail parking, municipalities, large commercial sites, private residences and strata.
Professional snow removal and hauling for when excess snow build up needs removal.
Sand and salting surfaces to keep your parking lots and walk ways open.
Burnaby Blacktop is your preferred choice for winter services you can count on
When snow piles up on city sidewalks, walkways and fills the parking areas of commercial sites, it's important that you work with a reliable, experienced, insured contractor for your snow removal and salting services. Burnaby Blacktop is a perfect choice because of our prompt, safe, and efficient service, saving you money in the end. Our crews are professional, friendly and always there to help. Our company owned snow removal/salting vehicles and equipment are regularly inspected to ensure that service is optimal.
Signing up with Burnaby Blacktop for our winter season services provides you with assurance of safe hassle free winter.
Burnaby Blacktop is committed to offering high quality service to all customers. Our snow removal service is available to both residential and commercial customers. Whether you need a one-time service, periodic snow removal, or regular services throughout the snow season, Burnaby Blacktop can assist you. As a fully insured company, Burnaby Blacktop takes every measure to ensure the comfort and safety of our customers. Our service team is available 24 hours a day 7 days a week to assist you with snow removal and salting services.
Call (778)-855-0513 today to book your Vancouver Snow Removal and Salting Services.
Request a Quote
VANCOUVER
RICHMOND
BURNABY
NEW WESTMINISTER
PORT MOODY
WEST VANCOUVER
COQUITLAM
PORT COQUITLAM
PITT MEADOWS
MAPLE RIDGE
NORTH VANCOUVER
DELTA
TSAWWASSEN
WHITE ROCK
SURREY
LANGLEY
ALDERGROVE
WHONNOCK
ANMORE
BELCARRA
Testimonials
"Top notch customer service! From the owners, to the workers, to the office staff, this company takes pride and ownership in every job. They repair/salt/remove snow from our parking lot where I work (AmberWood Dental at Arbutus Village Shopping Centre), and are always on top of it before I even get to work in the morning so we are well looked after (they have the lot salted well before 6am so I don't have to worry about slipping!). I would recommend this company to anyone looking for phenomenal service, whether it be for commercial or residential paving/snow removal. Thanks to everyone there for looking after us!"

Elizabeth Lindsay

Kerrisdale, BC

"I hired this company to do our dealerships salting and snow removal services. The service they delivered was excellent work. This company was very easy to deal with.I needed a quote and they showed up with in a couple of hours. I will definitely recommend this company for local business people. Great job Great Staff!"

Brenda Boyko

Surrey , BC

"I had been using and recommending Burnaby Blacktop for years for all my commercial paving and snow removal needs simply because they provided consistent quality service every time. The crew was always polite and respectful to myself and the neighborhood. My business has relocated this past fall to Edmonton and it has been really tough finding a quality snow removal company. My hope is Burnaby Blacktop expands to my area as the winter has destroyed the parking lot. Thanks for the years of great service Burnaby Blacktop !"

Kirk Buxton