Asphalt Paving & Repair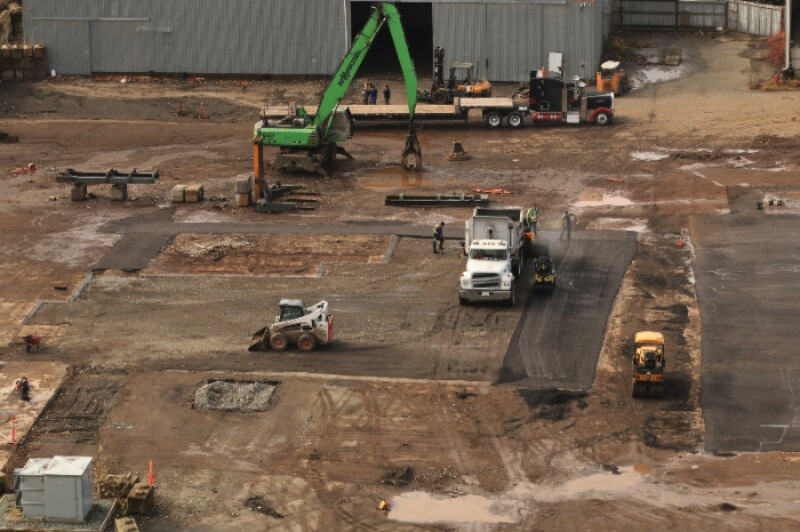 No matter if it's for a new installation, or for the expert maintenance of your asphalt surfaces as they begin showing their age; when looking for a company in Burnaby, Vancouver, or area communities, count on Burnaby Blacktop. We know you can choose from many Vancouver area paving companies; which is why we strive to make sure we consistently offer top quality customer service and the best asphalt paving services in British Columbia.
Your asphalt paving experts in the Vancouver area
We are proud of our reputation as paving experts. We maintain it with a consistent focus on the quality of our materials, our highly trained and all employee based crews, and the guarantee we offer our clients.
Not only are all our teams staffed by full-time trained employees, but we also own our own equipment including the trucks and heavy paving machinery. This fully "in-house" approach enables us to control quality and adherence to tight schedules, so your work is done right, and done on time.
Full range of Asphalt paving services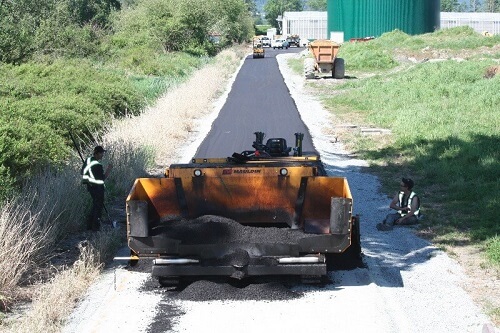 Burnaby Blacktop can undertake projects of any size from a straight forward asphalt driveway to a shopping centre parking lot. We are also happy to tackle different paving jobs or speciality paving projects such as municipal bike paths, residential developments, boardwalks and other projects that require an ability to think and plan outside the box.
Asphalt is an amazing material that can be adapted by a skilled paving crew for jobs from simple driveways and footpaths to heavy use in commercial parking lots and road surfaces where high wear and tear are the norms. Asphalt is the material chosen for more parking lots and driveways than any other nationwide because it is cost effective, durable and maintainable. We are experts in properly planning for the anticipated use, building the right drainage, putting in a solid base, and adjusting the thickness and consistency of the asphalt being used so you can be confident you will get a durable and cost effective paving project.>
Burnaby Blacktop can handle your asphalt removal and repair needs too
Our services also include a full range of asphalt maintenance and repair services such as:
Asphalt driveway repair: We offer a variety of options to keep your driveway looking good and working safely. A well-made and maintained driveway is not only a value enhancement of your property but also helps maintain your property by keeping water from pooling near your house's foundation and causing leaks and other problems. Turn to Burnaby Blacktop if you have questions or concerns about your driveways state of health.
Asphalt patching: We live in an area where there is lots of rain and occasional frost. When water freezes, it expands and enlarges any small cracks that even in the best paving job will occur after years of wear and tear. When the ice forms in or under the pavement it expands, and when it melts, a void is left. Surrounding pavement falls into the void, and after repeated occurrences, it eventually forms a pothole or cracks. Patching is more than just throwing loose asphalt into a pothole and stomping it down. Our experts will carefully analyse the cracks and holes they find and will professionally cut out the damaged asphalt, repair the base layers, and put in new asphalt that will look great and last.
Asphalt Resurfacing: Sometimes the damage is done by long term use, inadequate drainage, heavier than expected vehicles compacting the surface, or lack of adequate maintenance results in severe cases of asphalt damage. Often a good long-term is to resurface the asphalt pavement (also referred to as overlay). If you after a heavy rain you notice grade depressions indicated by large puddles of standing water on the pavement, and large sections of

alligator

asphalt – cracks resembling an alligator's skin, it is time to talk to one of our experts about having your pavement resurfaced. We offer complete asphalt removal and resurfacing services.
For more information on Asphalt resurfacing, please see our page on the topic HERE.
Request a Quote
VANCOUVER
RICHMOND
BURNABY
NEW WESTMINISTER
PORT MOODY
WEST VANCOUVER
COQUITLAM
PORT COQUITLAM
PITT MEADOWS
MAPLE RIDGE
NORTH VANCOUVER
DELTA
TSAWWASSEN
WHITE ROCK
SURREY
LANGLEY
ALDERGROVE
WHONNOCK
ANMORE
BELCARRA
Testimonials
"Thank you to Burnaby Black Top for their outstanding service, they are very efficient, hard working and produce great results I will be recommending them to anyone needing paving services."

Contara-Jae Harringa

Richmond, BC

"These guys were great! Excellent pricing, great work, top notch attitudes, and they were incredibly accommodating to my company's very hectic and short time frame. Even at the worst time of year for asphalt work. They are by far the first name on my list for any future work!"

Jeremy Berg

Surrey , BC

"We have hire Burnaby Blacktop to pave different section of our yard many times in the past three years. They are always on time and work hard. The job was done very well all the time. Their price is reasonable and payment policy is very flexible. We will hire them again in the future!!"

Peter Hu