If you want to upgrade your home's exterior living space, brick pavers are the ideal option. Using brick pavers on your patio, driveway or outdoor living space is the perfect way to add curb appeal to your property. In this article, you can learn about the newest hardscape trends that will spruce up your home, expand your entertainment space and provide your home with the upgrade it deserves for this new year.
Paving bricks are designed and manufactured for durability and to lay flat on the ground, unlike the bricks that are used for walls and chimneys, which are manufactured to be stacked vertically. Bricks made to stack vertically for walls are called "face bricks." They have a hole running through their middle to reduce weight. Pavers are solid instead of hollow, and so, are stronger.
Pavers come in a large variety of earth-toned colours and are made with compressed and highly heated clay. This results in a paver that is virtually impermeable. They are offered in simple single bricks with flat edges or interlocking pavers designed for easier installation.
Brick Paving in Vancouver
Proper brick paving requires a good foundation. At Burnaby Blacktop, our process starts by removing plant material and other uneven materials like rocks, roots, or branches, then grade a level surface. We lay down weed cloth or black plastic, followed by a layer of sand raked to be even and level. Once that is done, we start laying down the brick pavers. If they are laid close together, they won't require any mortar. Not using mortar allows the bricks to expand and contract as temperatures and moisture levels change.
Here are some recent brick paving trends that we have noticed becoming popular in the Vancouver area over the last couple of years.
Herringbone Pattern:
This millennia-old pattern involves bricks laid in an L-shaped arrangement (the end of one brick is arranged on the side of another so that it is flush with the end). This design adds energy and a sense of movement to the surface. Also, the fact that the bricks interlock to create this pattern, means that they are one of the strongest and most impact-resistant patterns. Bricks are less likely to buckle when arranged in a herringbone pattern.
Whorl Pattern:
If you have a round patio, you may want a whorled pattern. This circular design draws attention to a center point, which could be a focal point for a table, fire pit, or an additional garden bed. This circular design provides a feel of a whorl pool or concentric ripples of water. The arrangement is created by placing brick side by side in concentric circles. This pattern requires more measuring, cutting, and fitting as the edges of the bricks need to fit snuggly and still form a circle.
Mixed Colour Brick Pattern:
You may want brick colours to integrate, and be in harmony with, surrounding areas of colour. Natural shades are always good, like sand, gray, tan, beige, or brown. Even certain blues are still harmonious if all the colours are muted or grayed back. Mixing lighter and darker values adds texture to the pattern. One of the tricks is to try to maintain consistent relationships in patterns so that there aren't areas that call attention to themselves as possible mistakes.
Garden Edging:
Brick paver edging ties in your patio with your garden features and frames your beds, featuring your plants. Brick edging is not only esthetically pleasing but also protects the plants from foot traffic, which compacts the soil, and also erosion. Edging is an effective way to impede the ability of unwanted pests, like slugs and snails to access the beds and feed on the plants.
Burnaby Blacktop's Long History of Brick Paving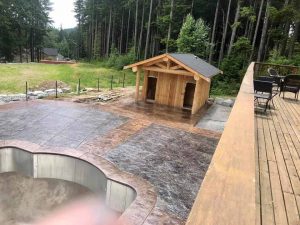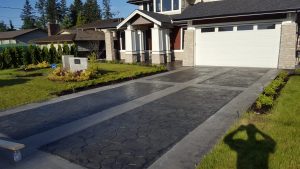 Burnaby Blacktop has been laying brick pavers in the Greater Vancouver Area for a long time. We have experience with several methods, materials, and designs. As always, we are ready for a challenge. Here are some of our recent brick paving projects:
Our team at Burnaby Blacktop knows all about paving and has been laying down brick pavers for years. Whether you are installing a new patio or laying down a new driveway, no job is too big or too small for us!
Contact us if you have any questions, get a free quote, or schedule an appointment we are available for a free walk-through.