TIME TO PAVE YOUR DRIVEWAY!
This is the fourth article in our series. Please check out the first three articles – Asphalt -Making the World Run Smoothly, Planning for a new Paved Driveway and Getting the base and basics right for your new driveway. If you have read all of our previous articles, you know it is time to pave your driveway!
Finally, with all the base and drainage issues are taken care of we get to the paving. If your contractor has carefully planned and executed everything up to this point, then the paving should be a breeze. When paving even a small area its best to use a "Paver" (Paving Machine/ Asphalt Finisher) if at all possible. This piece of construction equipment is used to lay asphalt on roads, driveways, parking lots and other such places. It is specifically designed and built to lay the asphalt flat and provides minor compaction before a roller compacts it. Using a Paver will leave you with a smooth, seamless finish that looks great for years to come.
After the paver has laid the asphalt down, a "Vibrating Roller" is used to compact the asphalt to the maximum density to ensure longevity and strength. The smaller areas and edges are then compacted with a vibrating plate compactor or handheld tamper.
Thickness: The thickness of your asphalt will vary depending on the region you live and the type of project, but usually residential applications in the Vancouver Canada area are laid at a depth of 2.5 inches and then compacted to a maximum density of 2 inches. If you plan on having heavier traffic use your driveway such as garbage trucks on a relatively regular basis you may want to consider increasing the thickness of the asphalt to increase its longevity. Commercial parking lots and municipal roadways are usually 3 or 4 inches thick once compacted. This is due to their needing to be more durable and stronger due to the volume and weight of vehicles that use them.
While adding thickness to your asphalt project will increase durability, the additional asphalt will add additional costs. Including but not limited to, additional trucking, labour, and material costs.
Warning: Often fly by night contractors compete for the low price. Usually, the way they can offer low prices is by cutting corners. The #1 way that they get away with cutting corners on a project is by reducing the thickness of your new driveway.
The average homeowner just sees it as black, smooth and finished. So they pay for the project not knowing the asphalt is only 1 inch thick. Then a couple of years later your new driveway starts to fall apart, any warranty has expired, and all too often the fly-by-night contractor is out of business. Another way contractors cheat by tamping the edges in a way, so it looks like your new driveway is 4 inches thick, to try and disguise the fact that its only 1 inch thick in the middle.
"Burnaby Blacktop Ltd. knows that the words CHEAP and BEST are never used in the same sentence – and so we've decided to be the best and our clients appreciate us for that".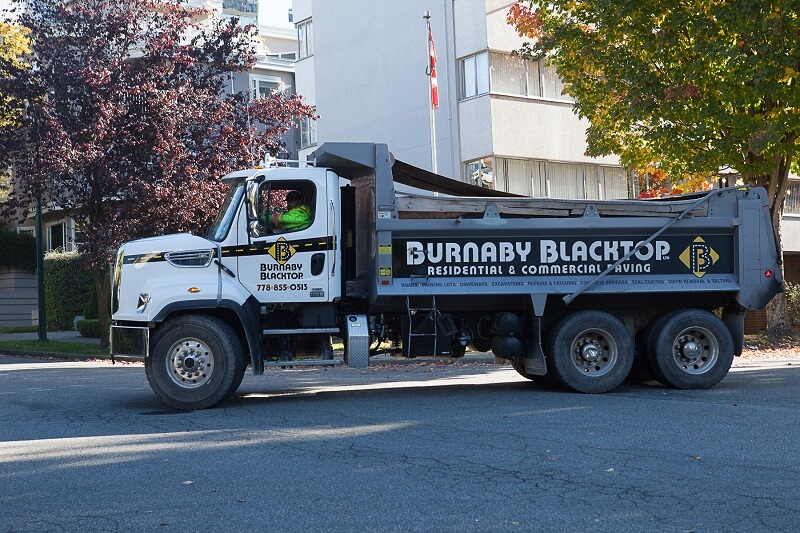 THE IMPORTANCE OF GOOD DRAINAGE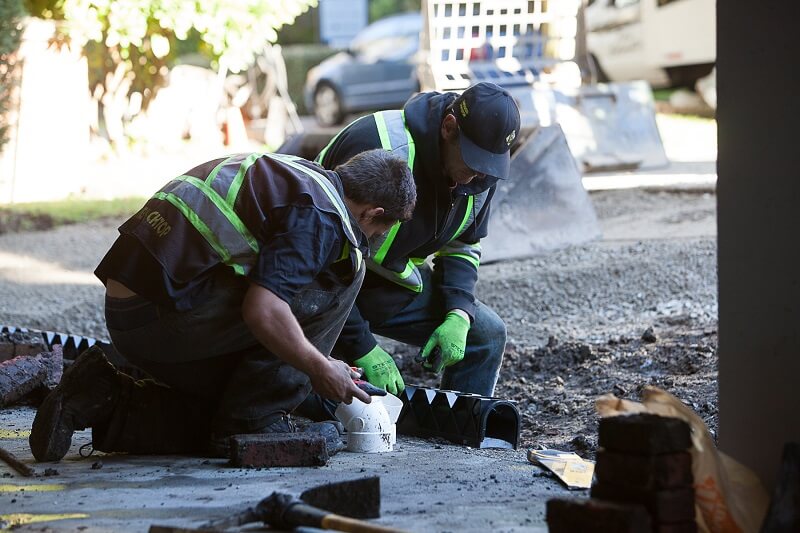 As we discussed in a previous blog, drainage is probably the most important aspect of your project, so you want to make sure you have a reliable drainage plan. If it's not done right the first time, it could lead to a portion or your entire driveway having to be torn up and redone. Sometimes it can lead to even worse problems like a flood in your home.
As a basic rule of thumb, the water should always run away from home. Occasionally the water must run towards the house. If this is the case, then a trench drain or catch basin must be installed to divert the water away from the house.
On flat sections of the driveway, there should be a minimum 2% slope to allow water to drain. There should be little or no standing water on the asphalt. If there is a lot of standing water on asphalt, it may lead to premature deterioration. It could also freeze in the wintertime leaving slippery sections on the driveway.
PAVING AN EXISTING GRAVEL DRIVEWAY – DO THE PREP WORK
Paving over an existing gravel driveway is a much similar process. However, you want to make sure any existing organics such as tree roots and weeds are removed prior to laying fresh gravel. If you skip this step, there is a good chance that you will have plants growing right through your new driveway.
Quite often an existing gravel driveway has been there for many years and can simply be regraded using the existing gravel. Alternatively, you may want to add another 2 -4 inches of gravel base to fortify and or raise the level of your new driveway.
Note: One type of plant called Horsetail or (Equisetum) commonly found in British Columbia, is especially vigorous. If left in or around your existing gravel base you may find yourself either mowing your new driveway or having to tear it up and build a new one.
When you are ready to Pave, Call Burnaby Blacktop 778.855.0513
If you have any unanswered questions about the best way to prepare and pay your road that these blogs have not answered, please give us a call. We will be happy to answer you with easy to understand straight up responses. If you are looking for a quote, please give us a call or use the easy to fill out Request a Quote form.