Drainage Installation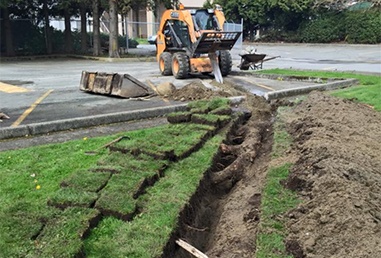 Three things are the leading cause of damage to asphalt installations, water, water, water and Ice. Okay that is four things, but they are all water in one form or another, one is just really cold solidified water. If you live in or around Vancouver you know that one certainty of life in this beautiful part of the world is lots of water. Our skies are full of it and all too happy to share.
Rain, snow and our local terrain make proper drainage of your parking lot, driveway or other asphalt or concrete installations the key to their longevity. Fortunately, installing good drainage is usually straight forward and a cost effective means of adding extended life to your driveway or parking lot.
Parking Lot and Driveway Drainage
Our team of experts are used to dealing with the realities of Vancouver and Burnaby and surrounding areas. We work with southern British Columbia installations all the time and can help you assess exactly what your needs are, and what can most effectively be done. No matter if it's a project to improve drainage of an existing installation, or a significant overhaul of a damaged parking lot or driveway, we will take the time to explain to you exactly what needs to be done.
Our consultative approach will help you understand if standing water indicates a drainage problem and might be causing long term extensive problems and how our drainage installation will solve your problems.
Generally, the presence of standing water on the parking lot surface is not a good thing. Standing water can promote early deterioration and failure. Small cracks become larger cracks and subsurface erosion, which starts small, builds over time.




Drainage Solutions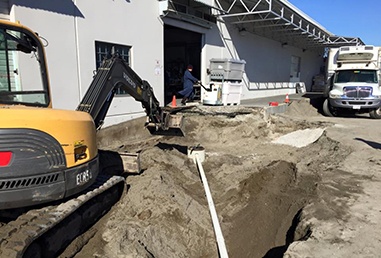 Burnaby Blacktop employs different strategies depending on each situation. Sometimes it's best to "re-grade" the surface, but usually it's better to try to harness what gravity is already doing and take the collected water to proper drains. This can be done by placement of new catch basins or trench drains. In some situations, berms can be an effective means of "steering" water away from problem areas and avoiding the problem to start with.
Burnaby Blacktop's representative will explain why and how our solution for your property will work. They will walk you through the proposal so you understand if a concrete trench drain needs to be installed, or if a plastic trench drain suffices, or we need to look at a stainless steel trench drain or other solutions. We are not tied to pushing a particular solution and thus can give you options to match your budget and objectives with clear costs and benefits for each option.
The bottom line is that by installing the proper concrete drainage or asphalt drainage your installation will last longer and need fewer repairs. Professionally installed driveway and parking lot drainage is a long term investment that will save you money and potentially costly down time. A well maintained parking area also minimizes liability issues if a customer or visitor suffers an accident or loss due to a problem with your parking lot or paved area.
You have water drainage problems, don't worry, just call Burnaby Blacktop, we have your solution!
Request a Quote
VANCOUVER
RICHMOND
BURNABY
NEW WESTMINISTER
PORT MOODY
WEST VANCOUVER
COQUITLAM
PORT COQUITLAM
PITT MEADOWS
MAPLE RIDGE
NORTH VANCOUVER
DELTA
TSAWWASSEN
WHITE ROCK
SURREY
LANGLEY
ALDERGROVE
WHONNOCK
ANMORE
BELCARRA
Testimonials
"Had a great experience with these guys. Everything from estimate to completion ran smoothly. Very accommodating and patient and overall great company to work with."

John Massot