Crack Sealing & Repair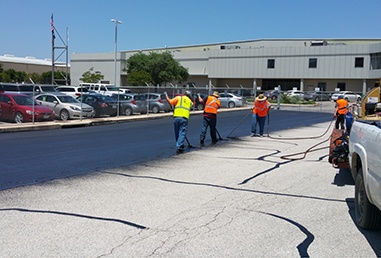 Vancouver BC based pavement crack repair Company
We learn as kids that we should regularly take care of our teeth. Daily cleaning and regular check-ups, catch and fix cavities when they are small. Done regularly and you can probably go a long way in life without expensive and major repairs or tooth replacement. Well paved surfaces, be they of concrete or asphalt, are somewhat the same. Cleaning regularly and finding and fixing cracks while they are still small can significantly extend the life of your parking lot or driveway.
You can extend the life of your asphalt parking lot or pavement and in some cases you can double the surface life expectancy by sealing asphalt cracks promptly. Burnaby Blacktop's professional and skilled crews are experts in identifying problem areas and determining how best to fix them before they lead to expensive and occasionally irreparable damage. We use only the finest sealing materials and repair equipment to help insure your total satisfaction.
Why does my asphalt crack and need sealing?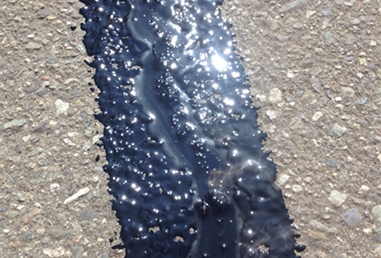 To the human eye a new layer of shiny blacktop, or smooth cement appears water tight and well-sealed. Water molecules, however, are amazing at finding even the smallest cracks. Moisture that penetrates into these small cracks generally ends up running off via the installed drainage, but sometimes small pools form under the pavement layer, or even in the crack, and sometimes the water freezes, which of course causes it to expand and push the crack open wider, allowing in even more moisture.
Just like your teeth, a small crack or hole if not treated early can become a large, painful, and expensive cavity; or in the case of your parking lot or driveway, a dangerous and unsightly pothole leading to a more significant parking lot repair.
Crack Sealing Process
Effective crack sealing starts by properly cleaning out the cracks of dirt, leaves and other junk that inevitably gets into the crack. Once clean, a hot-apply, rubberized crack filler is inserted into the exposed cracks. Hot filler is poured into the cracks and seeps in everywhere to fill and seal the crack. The fit and finish is superior to stuffing in cold crack filler materials, and is thus our preferred method. When cool and hardened inside the crack, an excellent seal is formed preventing further moisture penetration.
Wide range of repair and maintenance services
Burnaby Blacktop offers a wide range of asphalt and concrete repair and maintenance services. Crack repair and filling, membrane repair and resurfacing, line painting and seal coating services offered by our licensed paving professionals ensure your paved areas remain attractive and functional for years to come.
Give us a call for a free professional estimate and the assurance of knowing you are dealing with highly trained, industry recognized leaders.
Request a Quote
VANCOUVER
RICHMOND
BURNABY
NEW WESTMINISTER
PORT MOODY
WEST VANCOUVER
COQUITLAM
PORT COQUITLAM
PITT MEADOWS
MAPLE RIDGE
NORTH VANCOUVER
DELTA
TSAWWASSEN
WHITE ROCK
SURREY
LANGLEY
ALDERGROVE
WHONNOCK
ANMORE
BELCARRA
Testimonials
"I was first introduced to Burnaby Blacktop by a movie location scout. The movie company making a TV pilot had damaged one of my entry points into my circular driveway. Burnaby Blacktop repaired the damage and they did such an exceptional job that I had them do additional blacktop repairs to other areas that were previously damaged and needed work. The area they covered was about 60x40 feet rectangular. And I am very pleased of how it looks and gives my property a fresh appearance. Thank you Burnaby Blacktop."

Al H.