Paving Services
Burnaby Blacktop offer a complete range or paving-related services for the Vancouver Market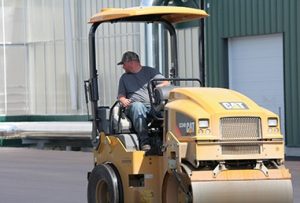 If you live and work in Vancouver and Burnaby and surrounding areas you have probably seen, walked on, driven over and admired our work. From municipal sidewalks and roads to shopping mall parking lots and some of the most professionally laid out and paved residential driveways anywhere we are proud pavers who do great work and stand behind what we do.
Our experienced management team and expert employees take great pride in doing your job right, ensuring that you end up with a great looking, long lasting project. Our teams provide a full range of services from excavation, drainage installation, grading, paving, line painting, long-term maintenance and even winter snow plowing and salting.
Burnaby Blacktop work closely with every client large and small and strive to deliver each and every project on time, on budget and above expectations.
When you are planning a paving project and want it to be done right, look great and last for the duration. Contact Burnaby BlackTop!
No matter if it's for a new installation, or for the expert maintenance of your asphalt surfaces as they begin showing their age; when looking for a company in Burnaby, Vancouver, or area communities, count on Burnaby Blacktop. We know you can choose from many Vancouver area paving companies; which is why we strive to […]
Burnaby Blacktop provides Concrete Paving services in the Vancouver Area Burnaby Blacktop provides Concrete Paving services in Vancouver and surrounding locals.  As our name implies, our passion is Blacktop, but our trained staff are also experts at using concrete. For some projects such as curbs, entrance ways, patios and industrial platforms, professionally poured concrete is often not only […]
Burnaby Blacktop love paving projects but we realize that sometimes you need some help with the "out with the old" before you can "in with the new". Sometimes that ugly old cracked driveway or pot-hole filled parking lot just needs to be removed. When you have an existing commercial or residential area that really is beyond repair or no longer fit for purpose then it's time to give us a call so we can help with your asphalt or concrete excavation.
Burnaby Blacktop can provide a full range of services and solutions for your parking garage needs. We work on all sizes of parkade structures and have experts on staff that can evaluate your project and make helpful suggestions to maximize the benefit of installing or repairing the parkade structure membrane. We work with the industries […]
Rain, snow and our local terrain make proper drainage of your parking lot, driveway or other asphalt or concrete installations the key to their longevity. Fortunately, installing good drainage is usually straight forward and a cost effective means of adding enhanced life to your driveway or parking lot.
You can extend the life of your asphalt parking lot or pavement and in some cases you can double the surface life expectancy by sealing asphalt cracks promptly. Burnaby Blacktop's professional and skilled crews are experts in identifying problem areas and determining how best to fix them before they lead to expensive and occasionally unrepairable damage.
Seal Coating is great way to protect and revive your driveway or parking lot The two most common things that drive the need to seal coat a driveway or parking lot are natural ageing and damage done by things such as tree roots or water erosion. Seal coating is a great way to maximise the […]
Quality Striping and Linework is a good investment You have probably heard the expression "good fences make good neighbours". Well, Burnaby Blacktop doesn't actually build fences, but we do feel that good lines and quality striping make for good parking lots, safer pathways and more useable roads. Beyond that, well laid out striping for warehouse […]
In addition to providing the Vancouver areas best paving services, Burnaby Blacktop offer a full range of Winter services to keep your parking lot or driveway operating safely through sleet, snow, rain ice and anything else mother nature throws your way.
For many houses, the driveway is an important focal point. It is the principal entranceway to the property, the place where you meet and greet guests and often serves as an extended work shop, project space or play area for the family. An attractive new or well-maintained driveway lends considerable "curb appeal" to your property […]
VANCOUVER
RICHMOND
BURNABY
NEW WESTMINISTER
PORT MOODY
WEST VANCOUVER
COQUITLAM
PORT COQUITLAM
PITT MEADOWS
MAPLE RIDGE
NORTH VANCOUVER
DELTA
TSAWWASSEN
WHITE ROCK
SURREY
LANGLEY
ALDERGROVE
WHONNOCK
ANMORE
BELCARRA