Concrete Paving FAQ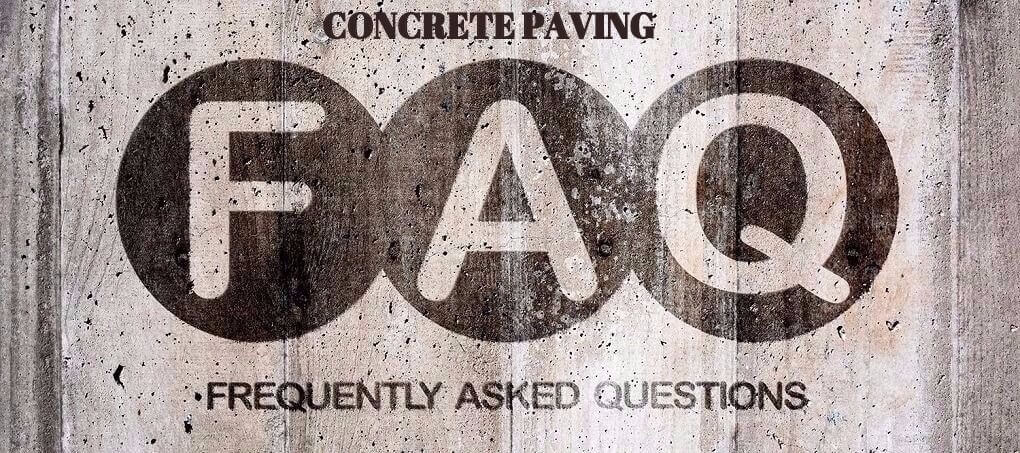 What are the benefits of having a concrete driveway?
The short answers are… Concrete driveways are extremely durable, can last for many years and support a lot of weight. Concrete can also be installed in a variety of colours, textures and patterns. This will definitely add curb appeal and value to your property.
Is there a recommended width for a residential driveway?
The concrete driveway width plays a big part in determining its lifespan. It should be wide enough to prevent vehicles from driving off the edges as this causes the material to crack and break off. We recommend a minimum width of 20 Ft. This will allow two cars to park in the driveway side by side. If possible try to go with a width of at least 24 Ft. This will allow both cars plenty of room to open their doors simultaneously.
Can we opt to have our concrete driveway overlayed instead of installing a new one?
There are several things to consider. If it has MINOR spalling or cracking, an overlay may be your best option. However, if it is cracked, heaving or spalling, it is usually best for you to have a new one installed.
How thick is a concrete driveway?
Concrete is normally placed at four inches thick, however, this is still dependent on the quality of the soil, gravel base and preparation where the driveway will be installed. A visit from one of our friendly estimators will give you all the information necessary to make an educated decision.
What are the different strengths of concrete?
There are many types of concrete strengths. These days the industry standard for a concrete driveway is 32 MPA. Some other classifications for concrete you might find are Normal concrete, High Strength Concrete, High-Performance Concrete, Air Entrained Concrete, Light Weight Concrete, Self-Compacting Concrete, Pervious Concrete and Roller Compacted Concrete.
What strength of concrete will you use?
The industry standard for a concrete driveway is 32 MPA. We can install weaker or stronger based on your particular preference and budget.
Will you use wire mesh?
This depends on the customer's preference. However, we typically recommend rebar for our concrete driveway installations.
Is it necessary for a base to be installed prior to pouring the concrete?
Definitely! Proper concrete driveway base should be prepared as this will determine its durability. It is a requirement for a concrete driveway to be installed over solid and stable soil and gravel to avoid failing and reduced life span. Make sure you always use clean gravel straight from the quarry and not a recycled gravel base. Using a recycled gravel base can lead to a variety of problems with your new concrete driveway.
Why is drainage planning important?
Drainage planning plays a very important role in the process of installation. Poorly planned drainage can lead to a variety of problems such as flooding in your home or premature deterioration of the concrete driveway.
How long will it take for us to use our newly paved concrete driveway?
Concrete driveway installations will vary how many days are required before use. To play it safe, you should wait at least 1 – 2 weeks before driving on your new driveway.
Do you provide warranty for your concrete paving services?
Yes. We provide a limited liability 1 year warranty on our workmanship.
Should I seal my new concrete driveway?
Yes. Sealcoating your concrete driveway is recommended as it will help to enhance longevity as well as prevent future issues and damage to the surface.
Why do people choose stamped concrete?
Stamped concrete is chosen due to its abundance of colours, patterns as well as overall curve appeal.
Can I Use Pavers Over Existing Concrete?
No. it is not recommended to use pavers over existing concrete.
How often should I seal my concrete driveway?
Because concrete driveways are quite durable, it is recommended for sealing to be done every 3 – 5 years.
How long will it take for me to seal my newly installed driveway?
This will depend on the specific type of concrete driveway you have installed however it is recommended to seal your concrete driveway within one month of installation.
How many coats should be done when sealing a concrete driveway?
There are two ways of coating a concrete driveway, using a sprayer or squeegee. When using a sprayer, it is recommended to coat it two times. If you are using a squeegee one or two coats will be sufficient.
Are you going to put the first coat of sealer on my driveway?
Sealers are available by request. The use of sealers is highly recommended on exposed aggregates and stamped finish and optional for broom finish.
Is there a way to improve the appearance of a concrete driveway?
Yes. We do have an option to add colour to the cement finishing. This dramatically enhances the look of your driveway.
Do you offer concrete in different colours?
Yes. We install concrete in many different colours.
What are the ways of caring and maintaining concrete driveways?
There are several recommended ways of maintaining and caring for your concrete driveway. We highly recommend sealing as it results to a longer life span. It is also best that you refrain from using your newly installed driveway for at least 1 week to avoid cracking. Do not place heavy equipment for the first 30 days and remember to clear oil spots regularly as this causes staining.
What if the driveway cracks?
The joints installed in your concrete driveway control cracking and will prevent them from spreading, there are instances where random cracks may appear. It is best to contact an expert to get recommendations on how to manage them and prevent further cracking.
How can we make our concrete driveway slip resistant?
If you wish to have a slip-resistant concrete driveway, we suggest broom finishing as this provides better footing.
Is snow removal possible on a concrete driveway?
Yes it is possible, however, we recommend hand shoveling because heavy machinery can damage a concrete driveway.