Asphalt Frequently Asked Questions (FAQ)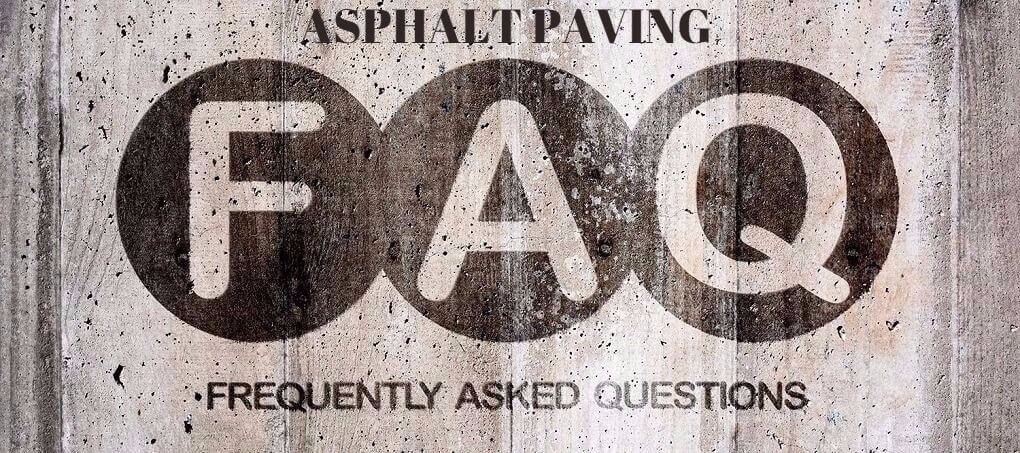 What is asphalt?
Asphalt is an engineered mixture of aggregate (stones and sand) with liquid asphalt cement (a petroleum product). Various sizes of aggregates are heated and then mixed in exact proportions with asphalt cement that has been liquefied at about 300°F.
What are the main benefits of asphalt?
Asphalt offers installation speed, usability and durability. It is also easy to maintain and the cost is not as expensive as using a paver or concrete.
How long does an asphalt driveway last?
If paved and maintained properly, it can last 20 years or more.
How extensive do my repairs need to be? Will I need to replace the entire deteriorated pavement?
Have a Burnaby Blacktop estimator determine if a topical fix can work for you. For example, a parking lot with longitudinal cracking and some areas of fatigue (alligator cracking) can be fixed topically. None of the repairs are full depth. But areas of upheaval, rutting, large ponding are usually indicative of problems involving the base, or sub base.
One of our friendly estimators will investigate the situation and provide consultation.
What are the advantages of asphalt compared to concrete?
Asphalt presents an economic advantage in both installation and repair, and retains flexibility.
What is a "thin overlay"?
Asphalt pavements can be prepared and overlaid with hot mix asphalt, resulting in a pristine product at a significant savings to a re/re. (Removal & Replacement).
Your Burnaby Blacktop estimator will determine if a 1.5″ (40mm) overlay is a suitable application.
Can you pave in the rain?
New construction paving can often be completed in rain, but in some cases rain will cause delays in scheduling. Asphalt overlays are not done in the rain because the new asphalt will not properly adhere to the old asphalt.
What should we consider when hiring contractors?
It is important that you look into the materials that will be used, and the reputation (and credentials) of the contractor. You will want a contractor who understands your needs. Some clients have economic constraints. Burnaby Blacktop will work with you; though we may not always "say what you want to hear."
At the end of the day, we are here to stay and our professional reputation is very important to us.
When can we drive on our new driveway?
You should wait 1 week especially if constructed on hot summer days. This will reduce the likelihood of lasting dents. Surface marks may appear from dry turning (cars should be in motion while turning). Scuffs may appear in summer, especially on driveways where a Hot Mix Asphalt with a high sand content is used, but these marks will fade over time.
What causes potholes?
Potholes form by the intrusion of water below the asphalt, during freeze-thaw cycles, with vehicle traffic compromising the area.
What causes asphalt to fail?
Given that your asphalt driveway was properly paved, water penetration into its base is the main reason why asphalt fails.
Other usual suspects are a poorly constructed sub-base (or base), vegetative growth, or subpar materials.
The normal wear and tear resulting in the slow degradation of your product will be exacerbated by sunlight, weathering, chemicals, etc.
How can I protect my asphalt?
Regular maintenance will definitely prolong the lifespan of your asphalt. Seal coating, asphalt patching and crack filling are suggested ways to prevent costly repairs, or resurfacing.
Will Burnaby Blacktop take care of very small jobs, like simple cracks?
We want to work with you maintaining your investment, no matter how small the task.
Is it safe to use ice-melting products on my asphalt?
Yes. You can use ice melting products.
What causes fatigue (alligator) cracks in the pavement?
Fatigue cracking or "alligator" cracks are usually caused by water seeping through the cracks resulting in a weak base. Poor drainage will worsen this as erosion begins underneath.
When should a parking lot be patched?
Repairs should be carried out as soon as signs of damage become visible.
In fact, the underlying problem has been present already, long before it showed up, so it is best to call Burnaby Blacktop, ASAP!
How much asphalt will my job require? How thick should it be?
Your residential applications will typically result in a mat laid at 2.5″, compacted to 2″ (50mm). Driveways tend to have a higher sand content resulting in a smooth finish showing less of the larger aggregate.
Commercial applications will incorporate larger aggregate and will typically be laid at 3.5″, compacted to 3″ (76mm).
What will you need to do to prep my property for a new asphalt driveway?
Preparations (soil removal, existing asphalt/concrete recycling, sub-base and base) will involve machinery, and trucking.
Burnaby Blacktop crews prioritize ease of movement for the clients neighbors, as well as for the client. Leaving our worksites clean at each stage of construction. Impeding normal family life very little, leaving behind dramatic, and lasting changes often in one day.
The enduring quality of our workmanship depends on this preparation stage, especially the compaction of base materials.
Do I need to do anything after the paving is done?
We recommend having a BB Sealcoating team seal your parking lot or driveway during it's first year of life.
How long does it take to create a new driveway?
In good weather, a driveway of almost any size can be finished in one day. Preparations may take longer, and especially in inclement weather.
Will there be any damage to my yard or other landscaping areas after paving?
Minimal damage on the properly can sometimes be unavoidable due to several factors involved in completing the job. It is necessary that you look for a reputable contractor like Burnaby Blacktop to ensure that they take care of the property. Discussing this with them is also essential to avoid issues that may arise while they are completing the job or after finishing it.
What can I do to make sure I get a quality asphalt driveway installed?
The best way of ensuring the quality of the workmanship is to hire a reputable contractor like Burnaby Blacktop.
When should I resurface my parking lot?
Since the functionality, and appearance, of our parking lot is the first impression our place of business makes (as well as the last!) we recommend resurfacing as soon as necessary. And before degradation becomes so advanced as it requires large scale excavation.
Beautification can be as simple as calling Burnaby Blacktop for a high quality Sealcoat finish. And fresh line painting of parking stalls, speed bumps, and wheelchair accessible locations.
Why does asphalt appear to have different textures in different areas?
here can appear to be some desegregation of course materials from fine at the surface. This is normal. Finishers will minimize this, but it does not reflect on the products integrity. The product's appearance will change over time, and minor textural variations will fade.
What will the asphalt look like when you are finished?
Your edges should have pleasing lines, or contours. Smooth transitions, with no scalloping or depressions.
The surface tension of the product is indicative of the density achieved in compaction.
The black look of new asphalt begins changing almost immediately, until in a few years the aggregate appears in it's true colour at the surface.