Line Painting, Stripping & Road Marking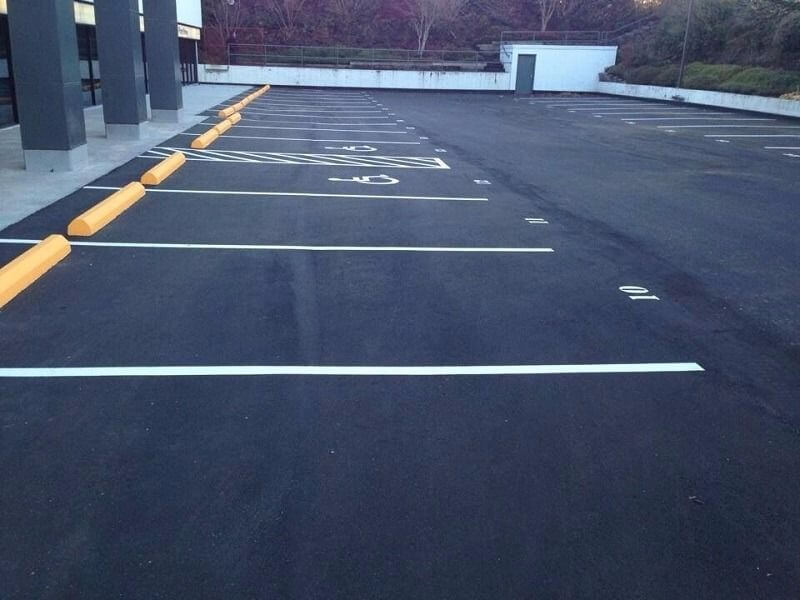 Quality Striping and Linework is a good investment
You have probably heard the expression "good fences make good neighbours". Well, Burnaby Blacktop doesn't actually build fences, but we do feel that good lines and quality striping make for good parking lots, safer pathways and more useable roads. Beyond that, well laid out striping for warehouse floors and lines for tennis courts or other recreation areas are essential to their functionality. Whatever your need, be it rather small or colossal, we will be pleased to provide a competitive quote.
Burnaby BlackTop can help you maintain your parking lot lines and roadway striping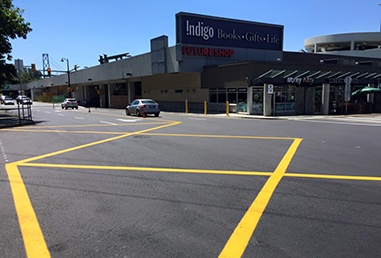 As inhabitants of British Columbia, we are lucky to live in one of the world's most beautiful areas, but it does have its fair share of abusive weather. As a result parking lot striping (or line painting) takes a beating, and regular replacement or maintenance is a necessity to keep things looking sharp and safe.
Outdoor parking lots, pathways and kerb work require restriping every 2-4 years depending on volume and type of traffic. Indoor parkade parking, factory floors and related surfaces may last longer, and road markings may need touching up every few years, especially in areas with high truck traffic, regular snow ploughing, etc.
We are the right team for your Line painting projects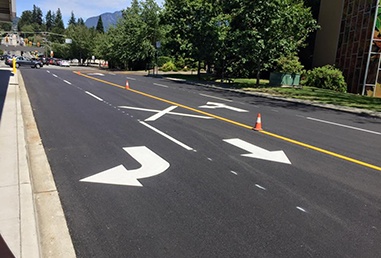 As with everything we do, quality starts with having the right team with the right expertise. Our managers have done countless projects and are used to working in situations where they need to work around your business realities. Maintaining partial accessibility and making sure your customers are safe and cared for is second nature for our team. We have our own commercial grade equipment and are well trained in using it. Our paints and other material are high-quality industrial grade and will withstand the realities of local weather conditions. Our work will stand up to the test of time.
When the project calls for it, we can create custom stencils for placement on your lot, warehouse space or other areas to help optimise how the space works. No matter if it's keeping cars organised and helping drivers from being confused, or maintaining access ways, so you remain compliant with fire department regulations concerning Fire Lane and No Parking areas, our team can help.
We have seen "most things" before and can usually provide you with a range of options and some friendly advice on how to take advantage of the careful placement of lines and striping to maximise the safety and utility of your paved area.
Time for new Line work and Striping? Give the friendly experts at Burnaby Blacktop a call.
Request a Quote
VANCOUVER
RICHMOND
BURNABY
NEW WESTMINISTER
PORT MOODY
WEST VANCOUVER
COQUITLAM
PORT COQUITLAM
PITT MEADOWS
MAPLE RIDGE
NORTH VANCOUVER
DELTA
TSAWWASSEN
WHITE ROCK
SURREY
LANGLEY
ALDERGROVE
WHONNOCK
ANMORE
BELCARRA
Testimonials
"Burnaby Blacktop Ltd. has excellent customer service and their quality of work is great. The person who gave us the estimate (Adrian) was very knowledgeable, and has provided us with excellent pricing. I would definitely work with them again if I ever get the chance to!"

Mick Ko

Richmond , BC

"We received great service and the quality of their work is excellent. We will be using you guys again! Thanks Burnaby Blacktop"

Don Moran