Concrete Driveway Services
When it comes time to pave your driveway you may want to consider pouring a Concrete Driveway. Sure, Burnaby Blacktop are experts in asphalt paving, but we do tonnes of great work using concrete and love the creativity that it allows. If you have a special project in mind Concrete may just be the way to go.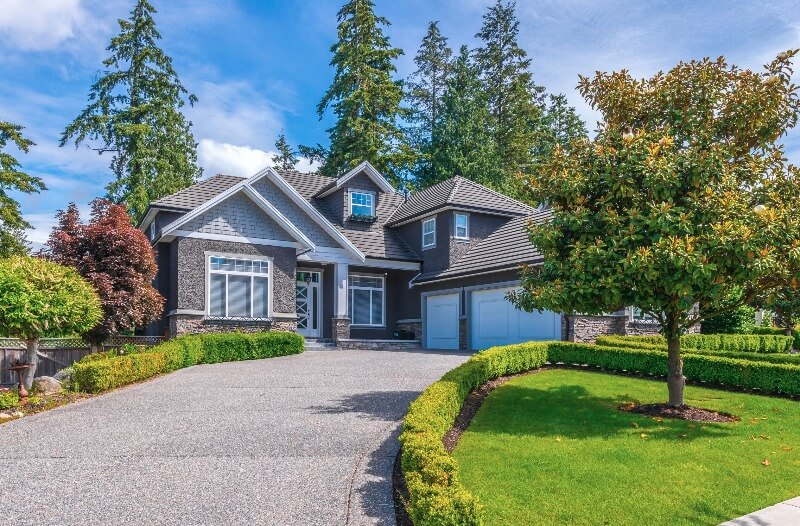 Should I choose Concrete or Asphalt for my driveway paving project?
You've decided that its time for a new driveway or possibly your existing one has deteriorated over time. Or maybe you've bought or built the house of your dreams and are ready for one of the final steps which are creating the perfect driveway and parking area.
Start by doing your due diligence and homework and look at the different options.  Concrete Driveway, Asphalt, Paving Stones, or even Rubber Paving are all possible and each offers advantages and limitations.
Will a Concrete Driveway cost More?
Having done your research you are really wowed by some of the concrete driveways you have seen,  and you have decided that you're looking for a strong high impact concrete driveway. That said you are concerned about the cost
Let's be honest here, of all the paving options that exist; concrete is typically the most expensive paving option, but not always. Furthermore, there are times when it is the only viable option for achieving the goals you have set in terms of look, performance and function.
Let's do a quick overview on concrete versus the most common alternative forms of paving.
Check out our warranty and customer information for concrete services
Concrete versus asphalt
Although concrete is usually installed twice as thick as asphalt, they carry approximately the same lifespan provided both installed by a reputable contractor using quality materials. The main drawback for concrete is its price at two or three times the price of a comparable asphalt driveway.
However; depending on your particular application and/or personal preference, it may be the right choice. One of the instances that a concrete driveway may be worth the extra money is when there is an extremely steep grade or slope from the roadway to the house. If the slope is steep,  asphalt is not a good choice as over time it tends to slip down hill getting thin at the top and thicker at the bottom.
Another situation where concrete is better than asphalt is when you're looking for a certain finish or look. Concrete is much more versatile than asphalt with the abundance of different finishes, textures and colours that will help achieve the kerb appeal your after. Sometimes for that special house when you require a special driveway and cost is not the main consideration the added benefits and ability to be creative with Concrete make it the only way to go.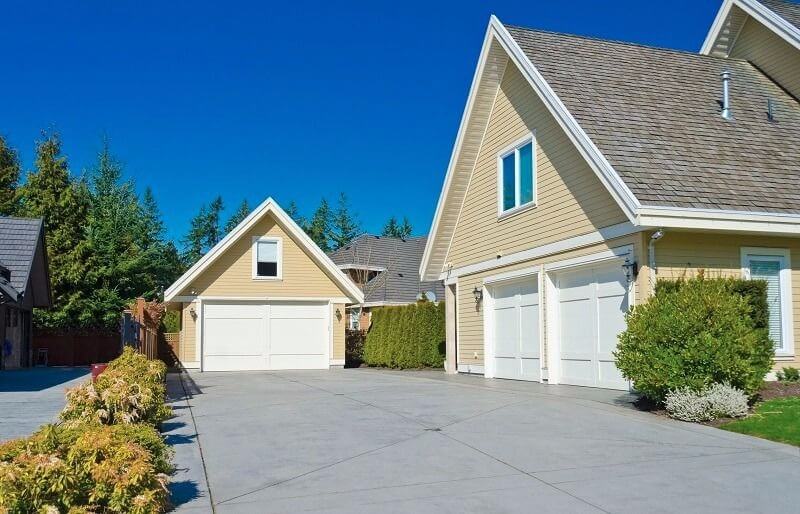 Concrete versus Rubber Paving
Although a relatively new form of paving which is based on using recycled rubber tires, rubber paving has flourished in recent years. Typically rubber paving is installed over an existing concrete or asphalt driveway that has cracked or sunken in areas. Provided the concrete or asphalt base is still in stable condition, rubber paving may be a less expensive alternative than completely removing the old concrete driveway and replacing it.
However, if your existing concrete or blacktop driveway has severely deteriorated, it is typically better to excavate it and start fresh. If you like the colour or texture of rubber paving, Burnaby Blacktop can save you money by removing your existing deteriorated driveway and replacing it with a new concrete or asphalt driveway. Once there is a strong base with fresh asphalt or concrete, you can cover the new base with rubber paving to give it the finished look that you desire.
If you're looking for the best rubber paving contractor in Vancouver, we highly recommend Eco Paving based out of Coquitlam. They are experts in rubber paving and also deliver an amazing customer experience! Please tell them Burnaby Blacktop referred you.
Concrete versus Paving Stones
When it comes to concrete vs. paving stones it generally comes down to the look that you prefer. Depending on which installation you choose,  either one can easily be the more expensive. For example a very intricate coloured and stamped concrete driveway will cost more than a very basic concrete paving stone driveway, and vice versa. One of the instances where paving stones may be a better option than concrete is when drainage is a factor. With concrete pavers, the water will flow in between the bricks where the sand is. However, this is also a drawback because over the years the rain, especially in the Vancouver area, may begin to wash away the sand in between the paving stones. This can cause them to shift and eventually lose their position and kerb appeal.
With a concrete driveway, you will need to ensure adequate drainage is part of the plan because a concrete driveway is not porous. It's rare that rain will ever affect a concrete driveway. You will want to maintain your new concrete driveway by regularly pressure washing and concrete sealing.
Be cautious of fly-by-night contractors that tell you they can overlay your existing concrete with a thin layer of new concrete. In our experience, this is rarely an option that will stand the test of time and offer good value for your money.
What kind of finishes can I get on my Concrete Driveway?
There are many different finishes that you can choose for your new concrete driveway. We will cover the three most popular below.
Broom Finish Concrete Driveway
The least expensive option is typically a broom finish. A Broom finish is a look you will find on most city sidewalks where the pattern looks like a broom has being swept across the concrete. Typically this finish will have troweled or tooled edges.
Exposed Aggregate Concrete Driveway
Another stylish finish is "Exposed Aggregate". Although more popular in the past, exposed aggregate driveways have diminished in popularity in recent years. However, with a median price point between broom and stamp finish, it remains a common request for people with a specific taste. 
Stamp Finish Driveway
By far the most desired and expensive finish is stamped concrete. Usually, there will be colours embedded directly into the concrete and contrasted with a secondary colour using a release powder. The finish itself is very labor-intensive and this, of course, drives up the cost. 
Broom Finish
Exposed Aggregate
Stamp Finish Driveway
What factors most affect the quality of my concrete driveway?
No matter which finishes you chooses for your new concrete driveway. Be sure to select a quality contractor with great reviews and references. Also be sure that the base preparation is done correctly and all of the forms installed to contain your new concrete driveway are straight and level. It is typically recommended that you use a rebar or wire mesh reinforcement to help maintain the integrity of the concrete over the years.
There are also different strengths of concrete that you can use on a residential driveway. The minimum recommended strength of a concrete driveway is 32 MPA. Be sure to ask your specific concrete contractor what strength of concrete they plan to be using on your project.
Of course, there are many other details that you will want to know regarding your concrete project. Rest assured that we have the answers. Give us a call today and we'll send over one of our friendly estimators at your convenience to answer them all.
Request a Quote
VANCOUVER
RICHMOND
BURNABY
NEW WESTMINISTER
PORT MOODY
WEST VANCOUVER
COQUITLAM
PORT COQUITLAM
PITT MEADOWS
MAPLE RIDGE
NORTH VANCOUVER
DELTA
TSAWWASSEN
WHITE ROCK
SURREY
LANGLEY
ALDERGROVE
WHONNOCK
ANMORE
BELCARRA
Testimonials
"I have used Burnaby Blacktop for several small and a few big construction site jobs. As a CSO I really appreciate the level of safety and professionalism they bring to the job. Burnaby Blacktop will be the only paving company I use or recommend."

Claudio Urrutia-Reed