Paving Markets

Strata Paving Services

Burnaby Blacktops friendly team are used to working with strata councils and are familiar with the issues of concern when it's time to pave, repair or replace strata parking areas. We can work with you on any size of project from a few parking spots in need of repair to a complete removal and repaving of an older installation. We know that your roadways, parking areas and paths appearance is important. Quality paving work helps maximize the value your strata and enhances the quality of life of your members.
We know that minimizing inconvenience and access issues is an important factor in how a strata measure the success of a project .We will work with you council and designated contact persons and help communicate and explain issues to the council and strata members as needed. This helps ensure that paving work and repairs go as planned and are done to the highest quality in a timely fashion.


The right team with the right credentials for your strata paving needs
Our work crews are 100% employee staffed and are all well trained and experienced. We own our state of the art paving equipment, graders, bobcats and truck fleet so we have full control over equipment availability and can ensure that schedules are adhered to. We use only quality materials from the gravel to the seal coating and back all our work with our quality guarantee.
Because we are professionals we are fully licensed and in good standing with WorkSafeBC, and ensure that everyone working on your properties have fully paid insurance premiums so you can rest assured that you are not at risk. We will happily provide you with a letter for your files from WorkSafeBC.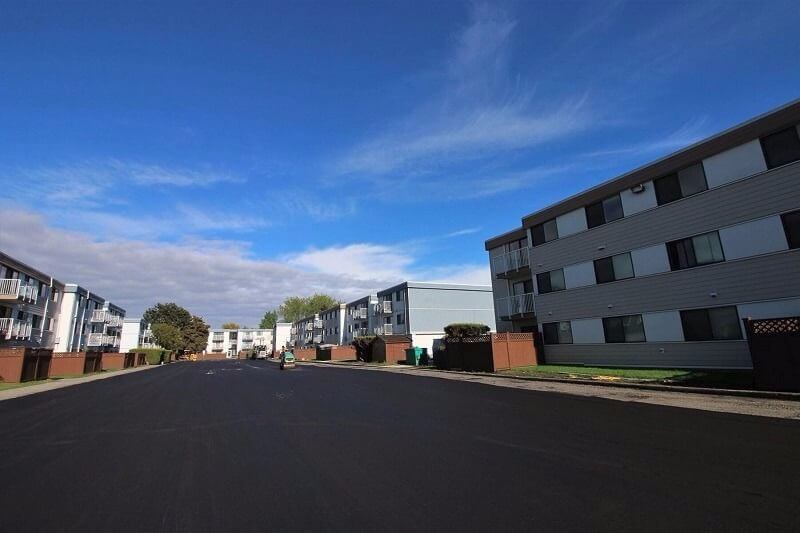 Your strata will benefit from our expertise and quality of work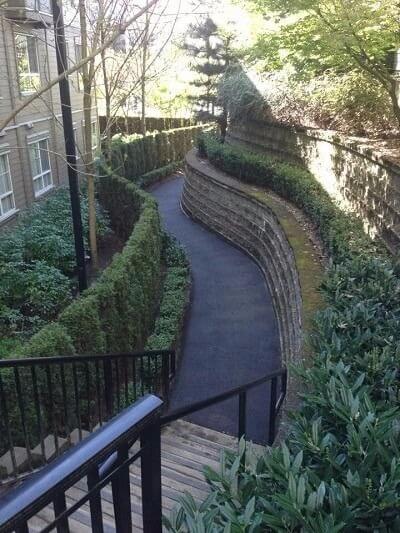 When you hire Burnaby Blacktop to do your strata related paving and repair work, you can expect quality work. We take pride in the fact that our work is built to last and look good. When you look at the work we put in you will see that it shows the key hallmarks of quality professional paving.
Strong and durable, our work is engineered to withstand tough day to day use and all that nature throws at it including freezing and thawing that can quickly ruin an improperly paved parking area.
Smooth and continuous asphalt with minimal seams or ugly breaks, not only makes our paving work look professional, but will also ensure minimal issues with pooling or bad drainage.
Burnaby Blacktop also can provide strata a complete range of repair options for their paved surfaces; from fixing damage done by tree roots, to crack sealing, fixing drainage issues, line painting and seal coating.
In the winter we also offer snow removal, plowing and salting to help keep your residents and their guests safe.
If your strata has issues of any kind with paving, parking lots or pathways call the best. Call Burnaby Blacktop today.